How Do I Delete All Posts In A Blog Category?

This Article Is For: Users with RSS Subscripton Settings Permissions & Blogs Permissions
First you will need to disable any RSS feeds (if the blog posts are from 3rd party or internal feeds).

To do this go to Website > RSS Subscription Settings > Sources > Hover over the feed > Click 'unsubscribe' > Click 'turn off subsciption for this syndicated link' > unsubscribe from selected feeds.


Once the RSS syndication has been disabled, these posts can be deleted within Website > Blogs. Here are some steps to more easily delete these posts:

Click "Screen Options" in the very top right corner (under your user)


For "Number of items per page", set to 300 > click 'apply'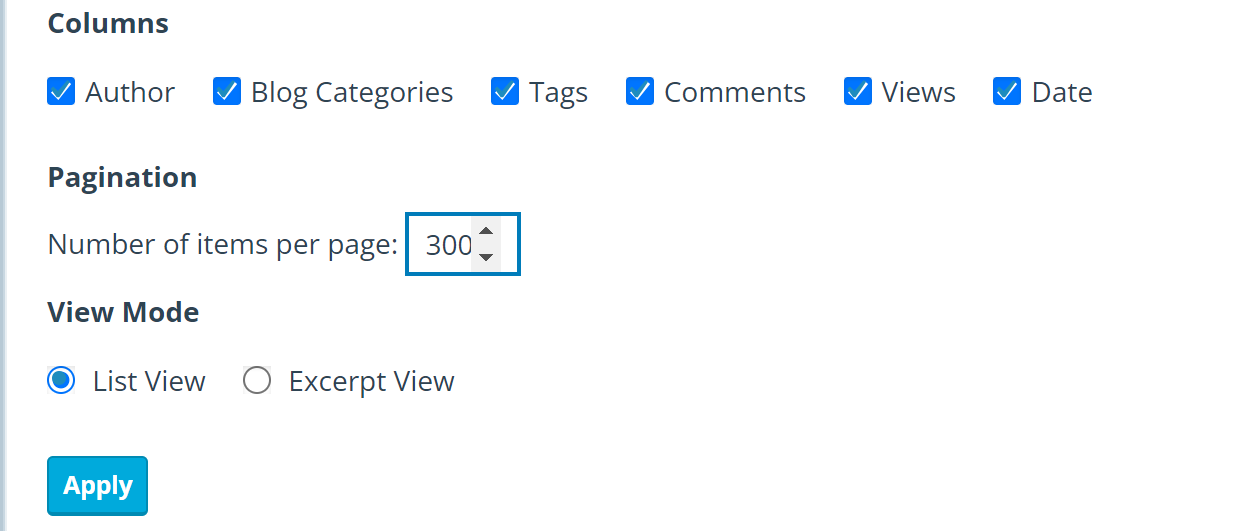 Select the blog category to delete posts from and click "Filter"

Select all the posts by clicking the checkbox at the top of the selection column

Click the "Bulk Actions", select "Move to Trash", and click "Apply".
Repeat process for all posts from that blog category, until completely removed.
Related Articles

How Do I Delete All Blog Posts In A Category?

We often get requests to remove blogs because a subscribed RSS feed contains stock images that are unattributed, thus posing a legal risk. In an effort to help you reduce this risk, our bulk trash tool, will delete thousands of blog posts with one ...

Editing & Deleting A Blog Category

This Article Is For: All users who have access to: Blogs & Blog Categories This is applicable to: All Themes For a video tutorial please see: https://attendee.gotowebinar.com/recording/7948664640774185231 These are the instructions for editing a blog ...

How Do I Add A Blog Grid List Layout To A Page?

This Article Is For: All users who have: Manage All Pages or Manage Selected Pages Permissions This is applicable to: All themes These instructions are for after you have created a blog grid list layout, and want to add that layout to a page. ...

Posts & Links

The main page you land on after clicking on 'Posts & Links' is for general settings that affect posts syndicated from any feed unless they are overridden by settings for that specific feed. If you wish to make changes for a specific feed/blog ...

How Do I Syndicate A Blog Category? (Premium Syndication)

Step-By-Step Guide: Syndicating A Blog Category Via Premium Syndication Premium Blog Syndication allows you to create a single article/blog post for one radio station, and then post that story to other stations automatically when added to a ...