This Article Is For:
All users who have access to one/all of the following: pages, blogs, contests, and sidebars
This is applicable to: All themes
The SoCast 'Weather Element' receives weather updates from a third-party service called World Weather Online . The widget requires a valid location in order to retrieve accurate weather information. An invalid location may result in the wrong city being reported.
Step By Step Guide:

Type : Select from 'Current Conditions' or '7 Day Extended Forecast'
Units Of Measure : Select from 'Metric' or 'Imperial'
Location : Enter a location. For more information on how to enter a location, please see below:

If SoCast receives wrong information from the service or it does not function as intended, this may result in your weather widget displaying the wrong location, icons or weather information. Unfortunately we have no control over what World Weather Online provides to us. In the event that your widget is displaying wrong information, listed below are some location search queries you can try.
City and Town Name (Variations on your location) : For example, you could try any of the following:


Toronto
Toronto, Ontario
Toronto, Ontario, Canada
Toronto, Canada


IP Address : Your IP address can be added in the format of

XXX.XXX.XXX.XXX (Ex. 101.25.32.325 )

Postal/Zip Codes: You can enter any postal/zip code from the location you are trying to add.


For Canada : You can enter an address using Canada Post's website: https://www.canadapost.ca/cpo/mc/personal/postalcode/fpc.jsf this will provide you with a postal code that you can enter into the weather widget
For United States : You can enter an address using The United States Postal Service website: https://tools.usps.com/go/ZipLookupAction_input this will provide you with a zip code that you can enter into the weather widget
For United Kingdom : You can enter an address using the British Royal Mail Service website: http://www.royalmail.com/find-a-postcode this will provide you with a post code that you can enter into the weather widget


Latitude/Longitude Coordinates

: You can use

http://www.latlong.net

to type in a City or address. This will provide you with the location Latitude and Longitude.

This can be entered into the weather widget using format: XX.XXX,XX.XXX in decimal degrees.

(Ex. 48.834,2.394)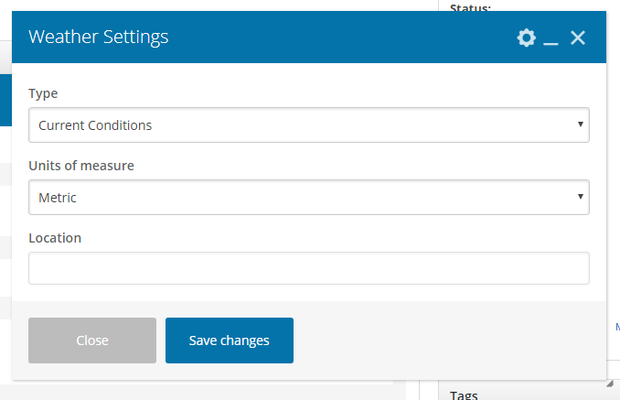 If you would prefer not to use our weather widget there are some free options available. Below is a list of ones we have tried with the SoCast Platform:
Accu Weather's free widget allows for some customization
Once you have created and customized your widget, you can then copy and paste the embed code using our 'Raw HTML' widget


The Weather Network's free widget allows for some customization
Once you have created and customized your widget, you can then copy and paste the embed code using our 'Raw HTML' widget